The 2018 California walnut production is currently forecast at a record 690,000 tons, up 10 percent from 2017's 630,000 tons. This forecast is based on the 2018 Walnut Objective Measurement Survey, which was officially conducted August 1 through August 21, 2018.
Late spring rains attempted to damper the crop, but only provided cooler conditions which increased kernel size and, in the end, helped quality. Insect pressure was reported to be down from last year. During the excessive heat waves over the summer, growers applied sunburn preventative materials. Harvest is expected to begin during the middle of September.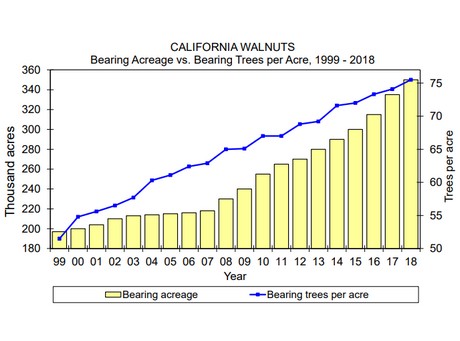 The 2018 Walnut O.M. Survey utilized a total of 726 blocks with two sample trees per block. Survey data indicated an average nut set of 1,176 per tree, up 3 percent from 2017's average of 1,141.
Percent of sound kernels in-shell was 98.8 percent state-wide. In-shell weight per nut was 22.3 grams, while the average in-shell suture measurement was 32.3 mm. The in-shell cross-width measurement was 33.1 and the average length in-shell was 38.1 mm. All of the sizing measurements were below the previous year's levels.
Estimated nut sets, sizing measurements, average number of trees per acre, and estimated bearing acreage were used in the statistical models.