Functional Food and Bio-supplements in South Korea
CONTENTS
1 MARKET STRUCTURE 3
1.1 Market Overview 3
1.2 Market Drivers and Growth 4
1.3 Import Trends 4
1.4 Key Players in the Market 5
1.5 Regulatory 6
1.6 Sustainability 7
2 MARKET ENTRY AND DEVELOPMENT 7
2.1 Market Entry Strategies 7
2.2 Points of Differentiation 7
2.3 Long Term Strategic Issues for Exporters to Consider 8
2.4 Distribution Channels 8
2.5 Pricing 9
3 MARKET RESOURCES AND CONTACTS 9
Market Overview
South Korea is a major market for functional foods and bio-supplements. Korea's 'wellbeing boom', low unemployment, ageing population and rising disposable incomes are increasing opportunities in the nutritional supplements market.
All claims of health benefits by functional health products must be proven and meet Korea Food & Drug Administration (KFDA) requirements. Korean buyers trust the health claims on functional health products due to these strict regulations. KFDA narrowly defines health functional food as food products that are manufactured / processed in the form of tablet, capsule, powder, liquid, granule, pellet, slice, paste, syrup, gel, jelly and bar and that contain substances or ingredients which have a functional effect on the human body.Korea's health functional food market was estimated to be worth US$1.15 billion in 2010, with imports accounting for 20 percent of the market. In 2009, Korea's functional food imports were approximately US$210 million and are expected to grow by 10 percent per annum over the next 2 years.ii The USA accounts for almost 50 percent of South Korea's
functional food imports and this is estimated to grow once the 8 percent tariff is eliminated through the United States-Korea Free Trade Agreement (KORUS FTA).iii In 2009, New Zealand was Korea's 6th largest source of health functional food imports: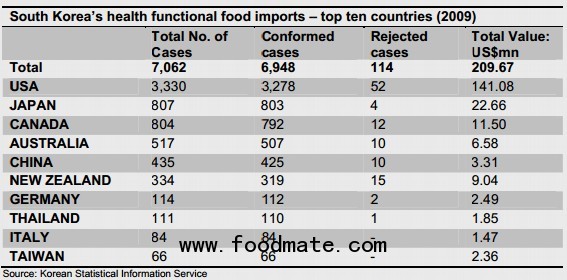 The health functional food sector in South Korea can be divided into the following major areas: red ginseng (market share of 52 percent), product-specific (8.3 percent), vitamin & mineral supplements (7.9 percent), aloe (6.7 percent) and ginseng (3.8 percent).
Functional foods that do not contain one of 37 ingredients recognised by KFDA, but have received product-specific certification from KFDA are classified as product-specific. The sales of products that have been individually approved by KFDA have increased significantly as current trends encourage consumers to take an interest in more sophisticated and a greater variety of health functional foods. Among individually approved products, the popular ranges target weight-loss, liver care and bone/joint-care.